"Conversations With Nature"
Works by Nobuko Yamasaki
October 1–30, 2021
Artist's Reception: Saturday, October 9 at 1–4 pm
Color | Ink Studio is presenting a solo exhibition of prints by woodblock artist Nobuko Yamasaki. Her work features elements from nature—often with trees, feathers, and water—and she uses traditional Japanese woodblock printing techniques, occasionally combined with collage, watercolor and more recently, inkdropping. The result is printmaking at its best!
The Artist's Reception is on Saturday, October 9 at 1-4 pm. It's free and open to the public. The exhibition runs through October 30.
Visiting the Gallery
We encourage you to explore the virtual tour of the exhibition below. Click or tap on the arrows to walk through the Gallery, click and drag to look around, or scroll to zoom in and out. To see an individual work, scroll down to find it in the listing of the works on display.
Process
Many people may know about ukiyo-e, traditional Japanese printmaking. Ukiyo-e was made and refined by many talented artists such as Hokusai, Sharaku and Utamaro in the Tokugawa period (1615-1868). In a typical process, an Ukiyo-e master creates a picture, a craftsman carves it into cherry wood, another craftsman prints it, and a company sells the prints. When I make my prints, I follow the same process. But, I do this all on my own, carving both sides of plywood boards. I also use watercolor, special traditional tools and glue for fixation.
Multiple copies of Ukiyo-e can be produced from one Ukiyo-e woodblock, but usually copies are numbered, and sometimes original woodblocks are destroyed to prevent proliferation of "originals". So several copies of "originals" can exist with small differences in hues and colors because of the difference of each "batch".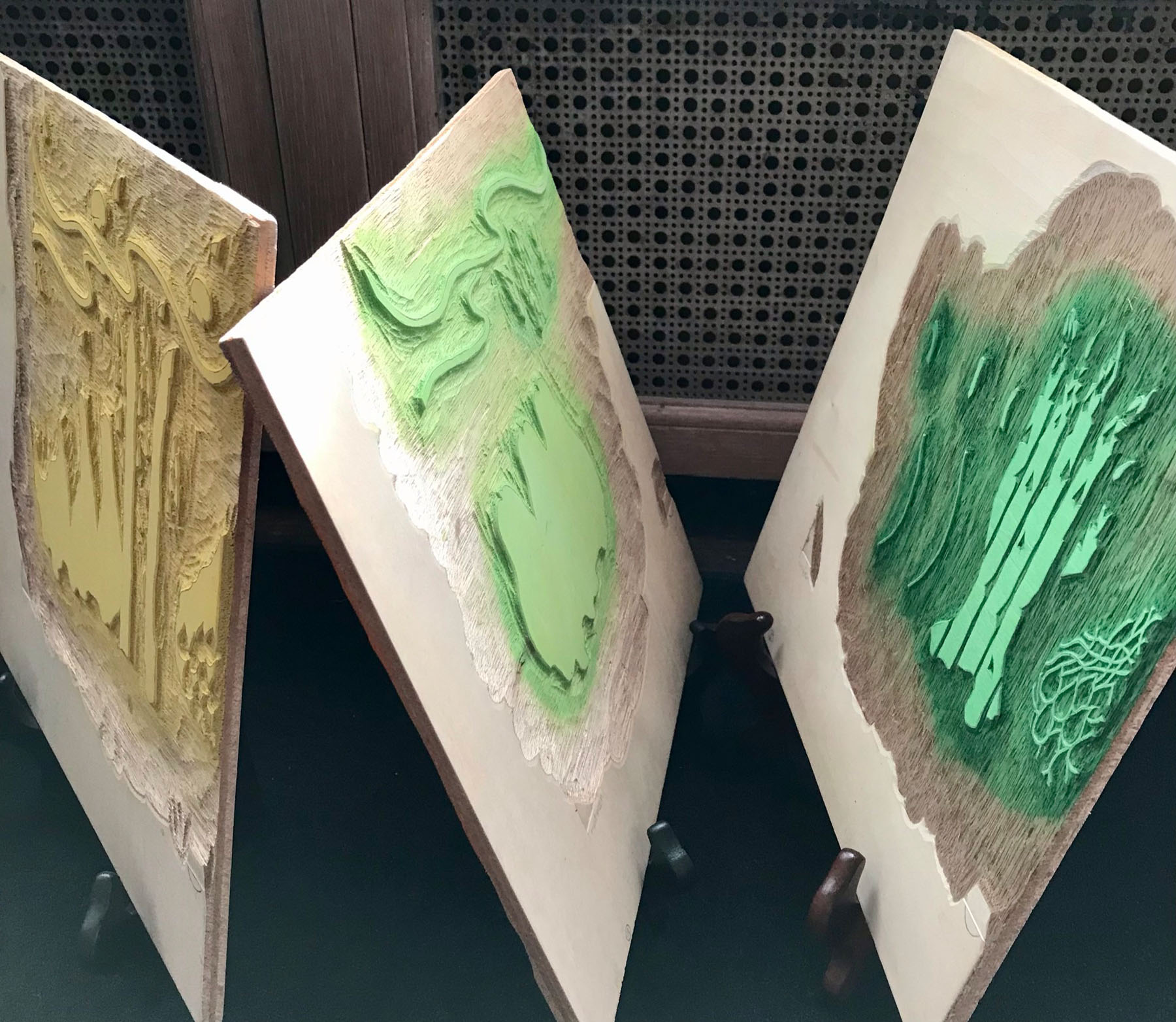 Multiple boards are carved for a print design—one side for each color in the print. Each board is inked in turn and the paper pressed against it.